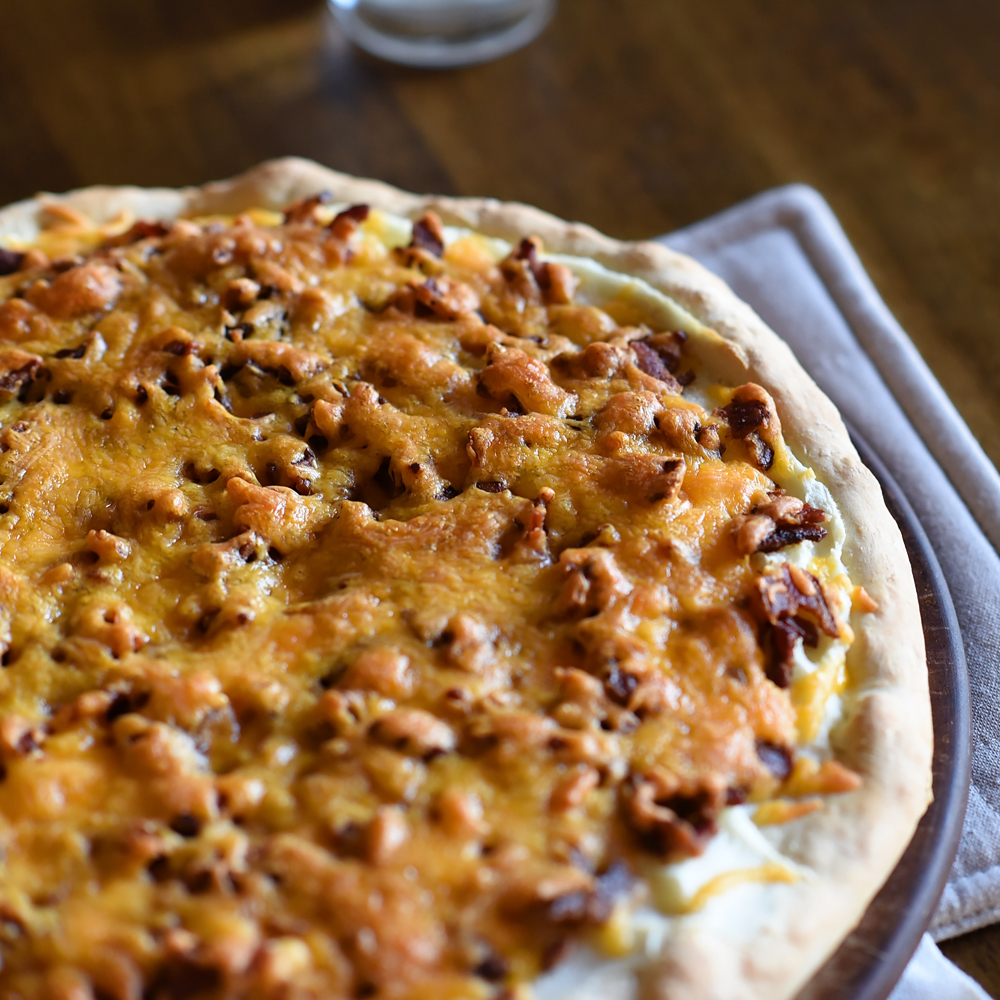 So many of us are home, immersed in a sudden, new daily routine and trying hard to stay calmly sane, digging deep within ourselves to find answers for so many unknowns.  I'm taking comfort in the thought that we don't have to have all the answers.  That said, I'm focusing on what is within my control.  Photographing beautiful families and children isn't exactly a possibility right now, but meals have to be put on the table despite the many emotions parents and children are experiencing.  I've been trying to think of simple ways I can reach out and decided to share a few family friendly recipes with you!  These include simple ingredients that we're all familiar with.
Today, I thought I'd start with one of our family favorite comfort foods that I discovered years ago in a Taste of Home magazine.  I simplified it for my own liking because, well you know, simplicity is good when managing a family!  Enjoy!
Potato Pizza
A filling comfort food with basic ingredients for a tasty meal
Crust
2.5 cups flour
1 cup warm water
1 Tablespoon yeast
1 teaspoon sugar
1 teaspoon salt
Topping
3 medium potatoes (peeled & cubed)
1/4 cup milk
1/2 teaspoon salt
1 pound bacon
1/2 Tablespoon onion powder
1.5 cups shredded cheddar cheese
1.5 cups shredded mozzarella cheese
Cook bacon in oven at 400 degrees F in a 9×13 baking dish (may need two) or on cookie sheets until it reaches desired crispness (we like our fairly crisp).

While bacon is cooking, place potatoes in a saucepan & cover with water.  Bring to a boil and cook for 20-25 minutes until very tender.

Meanwhile, mix crust ingredients together (mixer/dough hook is helpful).  Knead dough and roll into a circle to fit on a pizza pan.  Roll edges to create a crust around the outer edge.  Prick center several times with a fork and bake at 350 degrees F for 10-15 minutes until lightly browned.  Cool while finishing preparation of topping.

Once bacon is cooked, drained & cooled a little, break into small pieces.

Once tender, drain potatoes and place in mixing bowl along with milk & salt.  Mash until smooth.  Spread over crust.

Sprinkle onion powder over potato layer.

Sprinkle pieces of bacon on top of potato layer.  Top with cheeses.

Bake at 375 degrees F for 20 minutes or until cheeses are melted.
We often use a double amount of cheddar cheese if we don't have mozzarella on hand.  It tastes just as good!
You can also use a boxed mix or prepared pizza crust if you'd like an easier option for that portion of the recipe.
Along with a nice big side salad, this pizza feeds our family of 6 (3 hungry boys, 1 hungry hubby, 1 young daughter & myself) fairly well, but ideally, I need to make two.  It is pretty filling with the mashed potatoes, but kids sometimes have raging appetites, especially our two teenage boys!